Watch Unnatural History
---
"Unnatural History" is a show that originally aired on Cartoon Network. The main character is a high school student named Henry Griffon. Henry spent his childhood travelling the world with his parents, who were anthropologists. Henry's life changes drastically when he moves to the United States for the very first time and attends an American High School. As a result of his extensive travel experience, Henry has an unusual skill set for a high school boy. As the show progresses, he finds himself needing to call upon his diverse skill set in order to solve mysteries that arise in the school.
Henry has two friends who help him solve the various mysteries that fall upon him. Margaret Winnock, or Maggie, is a serious student who works part time in the school's Museum Complex. Jameson Asper Barlett, known as Jasper, is Henry's cousin and is determined to stay out of Henry's dramatic and complex life. Despite his desires, he finds himself drawn into Henry's problems. Jasper's father, Bryan Barlett, is the dean of the high school, and respects Henry and his strange knowledge. Henry and his parents have a strained relationship, where both his mother, Rosmary Griffon, and his father, Zafer Griffon, are highly suspicious of his activities.
"Unnatural History" follows Henry, his friends, and their enemies as they solve mysteries through use of their school's National Museum Complex. The students frequently find missing historical artifacts, or solve mysteries surrounding the artifacts. Through a creative combination of historical fact and fiction, "Unnatural History" stages an mystery-action-adventure that is very familiar to viewers.
1 Season,

17

Episodes

June 13, 2010

/

10

Cast:

Kevin G. Schmidt, Jordan Gavaris, Italia Ricci, Martin Donovan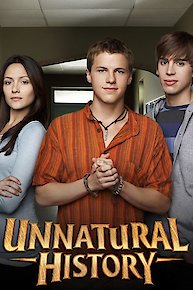 Unnatural History Full Episode Guide
Season
1
6 clips available
Episode

13

-

Past, Presidents and Future

Henry follows a trail of clues left by George Washington as a school election pits Jasper vs. Maggie

Episode

12

-

Speetlemania

The gang discovers an extinct beetle species.

Episode

11

-

Thor's Slammer

Henry tries to clear his uncle's name by solving the murder of the former partner of Jasper's father and finding a Viking artifact that he was looking for.

Episode

10

-

Maximum Insecurity

When a gang of thieves try to steal a WWII computer, Maggie, Jasper and Henry are cornered in the museum, unable to escape.

Episode

9

-

Now You See Me

After a teenage magician makes a Senator's son vanish, using an old magic trick of Houdini, the disappearance is investigated by Henry.

Episode

8

-

Curse of the Rolling Stone

When a ruby, which is supposed to be cursed, ends up stolen, Henry and his friends try to find the ruby and return it to the museum.

Episode

7

-

Liberian Candidate

Henry runs into an old friend and rival from the past. Henry believes that this friend's father may be targeted for assassination.

Episode

6

-

Public School Enemies

Henry finds a secret in the Dillinger car.

Episode

5

-

Fountain of Truth

Inside a trunk, Henry encounters artifacts, which guide him to a discovery by Ponce de Leon.

Episode

4

-

Prophecies and Ghostly Voices

As we move into the next millennium, many believe that the apocalypse is just around the corner. For as long as man has accepted the existence of a realm beyond this one, he has attempted to communicate, interact and seek help from it.

Episode

4

-

Heart of a Warrior

The high school hosts the Japanese Martial Arts Team as part of a cultural exchange accompanying the opening of an exhibit of Samurai artifacts. Henry is impressed by Hoshi (guest star ELLEN WONG), a girl traveling with the martial arts team, who falls under suspicion when the he believes that somebody is trying to steal the revered Samurai's Heart. Is there a thief or could it be that the rumors that the exhibit is haunted are the reason? Meanwhile, Maggie busily organizes the school dance in an effort to mask her own insecurities about attending it.

Episode

3

-

Mythical Beasts and Monsters

Presenter Mark Hamill features the various beasts and monsters in the mythical stories from the past and why indeed man felt the need to create such stories.

Episode

3

-

Sleeper in a Box

Henry and Jasper discover what seems to be a rock that generates radio waves and magnetism in the basement storage room that Henry maintains. While researching this item, they discover it is the old USSR Sputnik and has only recently dropped from orbit. Russian agents reactive a family of Soviet sleepers and go after our heroes, because Sputnik has current and deadly information.

Episode

2

-

Vampires and Witches

The witch-hunt was part of the natural evolution of humankind's tendency to fear and demonize those whose beliefs and practices might be different from the mainstream. The image of the vampire is one of a dark, complex creature.

Episode

2

-

The Griffin Gang

Henry must find a cure when an ancient virus is released.

Episode

1

-

UFO's and Alien Encounters

In this instalment of Unnatural History, presenter Mark Hamill features various UFO stories that have existed through the centuries and several cases where witnesses give first hand accounts of times where they were actually in contact with alien beings.

Episode

1

-

Pilot - The Victor Belongs to the Spo...

Henry's parents decide that it's best for him to go to a high school after traveling the world. In his new school, he meets new friends and uncovers a huge secret
Most Popular Unnatural History Episodes