Watch The Purge: Anarchy
---
"An American tradition"
The Purge - Anarchy is an American horror thriller film and a direct sequel to The Purge released in 2013. The movie revolves around the thought of having one day a year where laws do not exist, allowing the people to commit any crime for twelve hours without risk of punishment. This way the people behave the rest of the year and the crime rates drop. All fire stations, hospitals and police stations are shut down in the United States. Some inhabitants have what they like to call Purge Parties, where a group of them will go out together killing a previously selected target.
A husband and wife are driving home to their children when their car breaks down right as the Purge begins. They and three other people, all with their agendas, team up to attempt to survive a night in Los Angeles and hopefully get back to their families.
|
2014
|
1 hr 44 min
|

/

10
Cast

Studio

Director

James DeMonaco

Language

English
More Like The Purge: Anarchy
The Purge: Anarchy News
Early Returns: The Purge Off to Strong Start
July 01, 2016 @ 10:31 am PST
|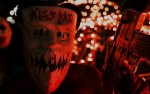 The Legend of Tarzan and The BFG have big budgets, but so far they're not as interesting to audiences as a modest horror sequel.
Read More

Sequel Overload Leads Weak Summer Box Office
June 15, 2016 @ 5:41 am PST
|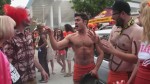 Moviegoers who want fresh, original stories have been frustrated this summer by theaters filled with movies based on other movies they've already seen. The problem, unfortunately, is not going to get better later in the season.
Read More

Movies for the Fourth: Will Tarzan and The BFG Bomb?
June 22, 2016 @ 6:30 am PST
|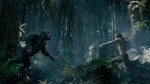 The summer of 2016 is suffering from a surplus of big-budget movies, and the two biggest movies of the upcoming holiday weekend could pay the price for audience fatigue.
Read More


Watch The Purge: Anarchy Trailer


Watch The Purge: Anarchy Online - Watch online anytime anywhere: Stream, Buy, Rent
The Purge: Anarchy is currently available to watch and stream, buy, rent on demand at Amazon, Vudu, Google Play, FandangoNow, iTunes, YouTube VOD online.