Watch The Maze Runner
---
"Remember. Survive. Run."
The Maze Runner, based on the best selling book by James Dashner, follows the teenage Thomas as he wakes up in a giant maze populated by a group of male teenagers. Starring Dylan O'Brien and Will Poulter, the Maze Runner promises to be one of the most exciting movies in theaters this fall. After waking up in an elevator, Thomas must learn the customs of his new environment, while trying to figure out the big questions of why are they there and how to escape the prison they call the Glade. To figure out these questions, Thomas must enter the seemingly endless maze where monsters are waiting for the so-called runners of this all male society.
Just when Thomas adjusts to his new life in the enclosed environment, an unprecedented event happens when a girl arrives in the Glade with a message that she will be the last person to arrive, and that time is running out for the Gladers as no more supplies will be given to them. Now, the Gladers must race against time and the monsters to solve the mysteries of the maze and escape their prison.
|
2014
|
1 hr 54 min
|

/

10
Cast

Studio

Director

Wes Ball

Language

English
The Maze Runner News
Maze Runner Accident Seriously Injures Star
March 18, 2016 @ 3:33 pm PST
|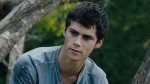 Dylan O'Brien was injured in an on-set accident involving a vehicle this week while filming the next installment in The Maze Runner movie franchise.
Read More

Yidio Review: 'The Maze Runner' Thrills...Then Sputters to an End
September 21, 2014 @ 9:43 pm PST
|
Read More

First Trailer for 'Maze Runner' Sequel 'The Scorch Trials' Shows the World Outside the Maze
May 19, 2015 @ 1:12 pm PST
|
Read More

'The Maze Runner' Is Already Getting a Sequel Two Weeks Before Release
September 04, 2014 @ 2:16 pm PST
|
Read More


Watch The Maze Runner Trailer


Watch The Maze Runner Online - Watch online anytime anywhere: Stream, Buy, Rent
The Maze Runner is currently available to watch and stream, buy, rent on demand at Vudu, Google Play, FandangoNow, iTunes, YouTube VOD online.