Watch The Addams Family
---
"Weird Is Relative"
The Addams family movie begins with the patriarch of the family, Gomez, being upset about his brother, Fester, being absent from the family for the past twenty five years. Fester left after he and Gomez had a falling out. Gomez layer, Tulley, owes money to a loan shark, and realizes that his son, Gordon, looks similar to Fester. He comes up with a plan to have Gordon pose as Fester, to get into the Addams house, and find the vault that holds all their riches. Gordon then arrives at the Addams home, posing as Fester, and claiming to have been lost in the Bermuda Triangle for the past twenty five years.
Gomez is thrilled to have Fester back. Gordon learns that the reason for their falling out was that Gomez was jealous of Fester's success with women. Gomez soon starts to suspect Gordon of being an impostor, when he cannot remember important parts about their past together. Gordon continues to grow close to the Addams family, including Gomez's children, Wednesday and Pugsley.
The Addams family plans a large party to celebrate Fester's return, and Tulley plans to break into the vault, during the party. He is unable to get into the vault, but soon finds out that the entire estate actually belongs to Fester. They quickly work to evict the entire Addams family, who are then forced to move into a hotel, and get jobs in the real world.
|
1991
|
1 hr 39 min
|

/

10
Cast

Studio

Director

Barry Sonnenfeld

Language

English
More Like The Addams Family
The Addams Family News
Christina Ricci Is Engaged!
February 03, 2013 @ 7:20 pm PST
|
Read More

Watch Your Back, Jack: Anjelica Huston Writing Her Memoirs
March 03, 2011 @ 5:00 am PST
|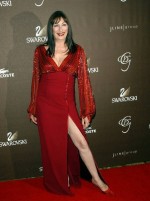 Jack Nicholson, consider yourself warned.
Anjelica Huston and her rep have just released news that she is writing her own memoirs, to be released in 2013.
Why is Huston waiting so long to release the book? Perhaps she's giving some other high- profile people in Hollywood time to digest the news that their name will be in print soon…or at least their lawyers.
"In this book, I want to look back at the landscapes that formed me -- the exceptional highs and lows I have experienced," Huston told Reuters.
Read More


Watch The Addams Family Trailer

The Addams Family Trailer
|
1:18

Watch The Addams Family Online - Watch online anytime anywhere: Stream, Buy, Rent
The Addams Family is currently available to watch and stream, buy, rent on demand at Amazon, Vudu, Google Play, FandangoNow, YouTube VOD, iTunes online.