Watch Paranormal Activity
---
"What Happens When You Sleep?"
One of the most controversial subjects in the world today is that of the existence of paranormal entities. Many have claimed to be plagued by these entities to the point of danger to, both, them and their family members. This is one of the reasons that Paranormal Activity found so much success; because of it's documentary approach to the subject. Thanks to it's treatment of the subject matter, Paranormal Activity helped to achieve a wider audience based interest into this subject as well as forcing viewers to question the existence of such phenomenon.
The story itself focuses on Katie and Micah and their experiences with a supernatural presence in their home. The movie is shown in 'found footage' format as if shot in home movie style. This gives more of a personal feel to the movie as well as more of a simplistic, yet introspective approach to the movies content.
The premise of the movie is that Katie and Micah have been plagued with supernatural and paranormal activity in their home. Most of the activity seems to focus on Katie, who divulges that she has been bothered by something similar to this before in her childhood. Micah, concerned for Katie, decides that the best way to get to the bottom of what has been happening is to have document the events using various cameras throughout the house. Although the beginning footage seems rather basic, it is during this time that the viewer begins to notice some of the oddities that take place during the night and when no one is present.
Through the progression of the movie the events begin to increase in frequency and severity. One chilling event takes place when Micah suggests the introduction of a Ouija board to attempt to communicate with the entity. Katie insists that this is a bad idea and lets Micah know of her extreme displeasure at his suggestion just before the couple depart for the evening. A few minutes after the couple leave the board bursts into flames and then the flames die, all while no one is present.
Paranormal Activity is a must see for anyone who has an interest in paranormal and supernatural events. This film is one that may start a bit slow but it induces the viewer to continue watching to see what will events will take place from minute to minute.
|
2007
|
1 hr 26 min
|

/

10
Cast

Studio

Director

Oren Peli

Language

English
Paranormal Activity News
New Movies Jan. 17-19: 'Jack Ryan' and Ice Cube Hit Theaters
January 17, 2014 @ 7:30 am PST
|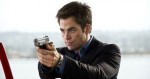 Chris Pine takes on the role of Tom Clancy's hard-to-kill spy this week, and Ice Cube tries to put up with Kevin Hart. Meanwhile, a squirrel and a rat get crazy, and another found-footage horror movie sneaks into theaters.
Read More

Watch the 'Paranormal Activity 4' Trailer, If You Dare
August 01, 2012 @ 11:32 am PST
|
"Paranormal Activity 4" will be hitting theaters this October, and the first trailer has just hit the Web. Technology is the big theme here, as Skype and home security systems help add to the scariness... as do, of course, Katie and her spooky kidnapped kid.
Read More

With Weeks To Go, Check Out A Brand New 'Paranormal Activity 4' Trailer
September 24, 2012 @ 3:46 pm PST
|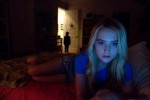 Starting with "Paranormal Activity 3," the new rule for this series - should it extend past next month's "Paranormal Activity 4" - deserves to be "Trailer does not indicate what will actually be in the movie." Still, there's the faintest hope that if the fourth low-budget installment has the intense scares of the trailer, then this one might be the best yet.
Read More

Weekend Box Office: 'Avengers' Finally Dethroned, Passes $500 Mil Domestic Anyway
May 27, 2012 @ 3:15 pm PST
|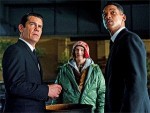 After a number of weeks on top, "The Avengers" was finally defeated by "Men in Black III." But "Avengers" is still going strong nonetheless, and earned another speed record, passing half a billion dollars domestically. Get the numbers here.
Read More


Watch Paranormal Activity Trailer

"Paranormal Activity" - Official Trailer [HQ HD]|1:46

Watch Paranormal Activity Online - Watch online anytime anywhere: Stream, Download, Buy, Rent
Paranormal Activity is currently available to watch and stream, download, buy, rent on demand at Amazon Prime, Hulu, Amazon, Vudu, Google Play, FandangoNow, YouTube VOD, iTunes online.