Watch Insidious
---
"It's not the house that's haunted."
Insidious is a movie that has been the source of nightmares for many. When a family consisting of a mother, father, and their three children move into a new house in a new town it does not take long for things to go inexplicably wrong. Just a few days after their move, the Lambert's son, Dalton, falls into a coma like state and does not wake up. After months in the hospital the Lambert family brings Dalton home, although he is still in the coma.
Upon the family's arrival, supernatural events ensue. The woman of the house, Renai, starts to see strange people in her home. Upon Renai's request, the family uproots again and moves into a new house, but the supernatural events do not cease, and they turn violent. The family brings in a woman who specializes in mediating supernatural events. The family and this hired professional eventually come to the conclusion that the family's son, Dalton, is trapped in a place called "The Further". The hired professional, Elise, explains that there are several demons fighting for control over their son Dalton's body. This was able to happen because Dalton can do something called "astral project". This means that while he is sleeping he is traveling into different worlds but he thinks that these different worlds are just dreams. In this particular case, there is one incredibly powerful demon fighting multiple other demons for the control over Dalton's body. The demon watches over Dalton waiting for the time when it is possible to take over Dalton's body completely.
After Elise's evaluation, she pulls Dalton's parents aside and reveals some shocking news. Dalton's father, Josh, was also able to astral project when he was a child. He was plagued by the spirit of an old demonic woman who would present herself when photos were taken of Josh. The two parents decide that, based on Josh's ability to astral project, Josh should astral project into "The Further" in order to find his son and bring the boy back with him safely. He finds his son and they make their way to escaping, when Josh is faced with the old woman that plagued him as a child. He tells his son to go ahead so he can confront this woman. The two boys wake up, but the horror is not yet over. Josh has been possessed by the old woman that was after him as a child.
|
2010
|
1 hr 42 min
|

/

10
Cast

Studio

Director

James Wan

Language

English
Insidious News
New Movie Releases: 'R.I.P.D.' Aims High
July 14, 2013 @ 11:52 am PST
|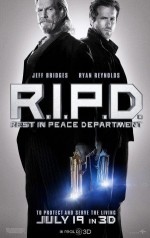 It's been a bumpy summer for movie studios so far. After a start that put the season on a pace to break records for box office receipts, a series of disappointing box-office performances by big-budget releases has shown that no one can predict with any real accuracy how the summer is going to end up.
Read More

Weekend Box Office: 'Hop' On Top, 'Source Code' and 'Insidious' Not As Sweet
April 04, 2011 @ 6:13 am PST
|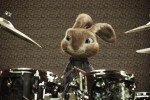 It was bunnies versus bombers versus evil posessed children this weekend at the box office. Unsurprisingly, the cute littly fluffy bunnies won.
The animated/live-action children's movie "Hop" took the top spot this weekend with a big opening of $38.1 million. Even though the movie was projected to do well, that number exceeded the expectations of many, and considering the movie cost $63 million to produce, it's off to a great start.
Read More

Weekend Box Office: Russell Brand Beats Himself, Was 'Hop' or 'Arthur' On Top?
April 10, 2011 @ 2:48 pm PST
|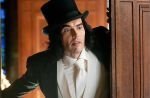 This weekend saw a lot of Russell Brand at the box office: the British bad-boy-turned-good-boy had two movies in contention for the top spot, as "Arthur" opened and "Hop" entered its second weekend. Only one movie could take the top spot, though, so which one was it?
I'll spare you the suspense. It was "Hop" and it wasn't even close.
"Hop," which stars the voice of Brand as the Easter Bunny along with the real James Marsden, placed #1 for the second week in a row with $21.
Read More

What's in Theaters This Weekend: April Fool's Day Edition (Watch Trailers for 'Hop,' 'Source Code,' 'Insidious')
April 01, 2011 @ 9:57 am PST
|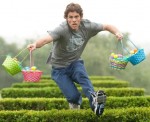 Heading to the theaters this April Fool's Day? Find out what movies are debuting in U.S. theaters today!
"Hop": In this animated comedy the Easter Bunny is hit by a car and the driver, who is an unemployed slacker, must try to save Easter. The flick stars James Marsden, Kaley Cuoco, Chelsea Handler, Elizabeth Perkins and the voice of Russell Brand. Rated PG
"Source Code": Action-packed thrills make up this Sci-Fi film about a government experiment that puts a soldier into an unknown man's body for the last eight minutes of his life.
Read More


Watch Insidious Trailer

Insidious Movie Trailer Official (HD)
|
1:51

Watch Insidious Online - Watch online anytime anywhere: Stream, Buy, Rent
Insidious is currently available to watch and stream, buy, rent on demand at Amazon, Vudu, FandangoNow, iTunes, YouTube VOD online.