Watch How to Train Your Dragon 2
---
"The training is over."
A young Viking, by the name of Hiccup, doesn't seem to belong to his tribe's heroic tradition of slaying dragons and earthly rituals. He is independent from his culture and likes to take matters into his own hands. He and his new friends explore new dragons and find undiscovered territories. They also find a liking to a new sport. Challenging each other to dragon races is an exciting event everyone likes to take a part in. Later in the film, he is rejoined with his mother, in help to rescue these dragons. They take it upon themselves to save the future for not only dragons, but humans.
Hiccup and his gang, must fight to save peace between the conflict that arises throughout the movie. With Hiccup's adventurous personality, his horizon broadens to new ends of the earth. He makes a huge impact in the world leading others in his path. It's a whole new and unwritten adventure that you'll surely enjoy. This movie comes with an inspirational sense that sets a positive tone for the young crowd. You will not be disappointed, this movie is fun, exciting, and humorous for the whole family. DreamWorks has made, yet, another outstanding film.
|
2014
|
1 hr 45 min
|

/

10
Cast

Studio

Director

Dean DeBlois

Language

English
More Like How to Train Your Dragon 2
SUBSCRIPTION
RENT / BUY
CABLE
How to Train Your Dragon 2 News
Everything Coming To (and Leaving) Netflix in March
February 24, 2015 @ 6:19 pm PST
|
Read More

Full List of Oscar Nominees Includes Familiar Faces and a Few Big Snubs
January 15, 2015 @ 10:15 am PST
|
Read More

Complete List Of The 2015 Oscar Nominees Available To Watch Online
February 22, 2015 @ 6:00 am PST
|
Read More

New Movies June 13-15: 'Jump Street' and Dragon Training Sequelfest
June 13, 2014 @ 12:35 pm PST
|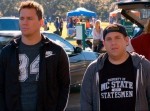 This week's two new releases don't offer anything new, but they're still generating a little excitement, since they're both critically-praised follow ups to big hits. One of the two of them will certainly be a hit, at least for the week, and there's a good chance that they'll both perform satisfactorily.
Read More


Watch How to Train Your Dragon 2 Trailer

How to Train Your Dragon 2
|
0:02
How to Train Your Dragon 2
|
0:02
How to Train Your Dragon 2
|
0:03

Watch How to Train Your Dragon 2 Online - Watch online anytime anywhere: Stream, Download, Buy, Rent
How to Train Your Dragon 2 is currently available to watch and stream, download, buy, rent on demand at DIRECTV NOW, Amazon, Vudu, Google Play, FandangoNow, iTunes, YouTube VOD online.