Watch Get Rich or Die Tryin'
---
"If You Think You Know the Story...You Don't Know the Man."
Jim Sheridan directs this film staring Curtis "50 Cent" Jackson. The drama depicts the life of a young boy and his mother, whom he adores, living a modest but comfortable life. The mother is actually a drug dealer who must leave Marcus with his grandparents while she conducts business. Marcus is orphaned when his mother is murdered in a foiled drug deal. He goes to live with his grandparents and sees that they have to work hard to support the family. Marcus goes down the road of his mother as he grows older. Being able to buy clothes for himself, he eventually drops out of school and joins the local drug thugs lead by Levar (Bill Duke). Majestic (Adewale Akinnuoye-Agbaje) is Levar's right hand man, but endeavors to become a boss in his own right.
Marcus eventually wants to leave the drug trade after he spends time in jail. He dreams of becoming a rap-star and names himself Young Caesar. His girlfriend from years ago (Joy Bryant) becomes a part of his world again. Bama (Terrence Howard), becomes a friend in jail and together they chase the dream of stardom.
Marcus is almost killed by his past compatriots as they gun him down in front of his home. Majestic doesn't want to let Marcus go from the drug business. The drama of the murder of a friend, and the life of his baby, makes Marcus reconsider his life.
On stage Marcus is on the way to fame and fortune. He wears a bulletproof vest for protection and ticks Majestic off. Majestic reveals that he was the one who brutally murdered Marcus's mother. With a fight that leaves Marcus standing and Majestic in a bad situation, Marcus turns his back on the dark lifestyle he once lead.
The movie is rated R, for violence and language. The running time is one hour and fifty seven minutes. This movie is for a mature audiences only.
|
2005
|
2 hr 14 min
|

/

10
Cast

Studio

Director

Jim Sheridan

Language

English
More Like Get Rich or Die Tryin'
Get Rich or Die Tryin' News
Is 50 Cent the New Dave Chappelle? Fitty Launches a New Comedy Site
April 27, 2011 @ 10:59 am PST
|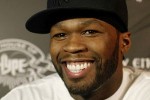 After recently breaking into the movie industry (though we still don't really know where "Things Fall Apart" stands), 50 Cent is taking his passion for all things entertainment into the world of comedy. Fitty's new site, ThisIs50Comedy.com, is not officially live, but currently has content featuring Young Jack Thriller, Marlon Wayans and Jonny Bones Jones.
Read More


Watch Get Rich or Die Tryin' Trailer

Get Rich Or Die Trying (Trailer)
|
2:21

Watch Get Rich or Die Tryin' Online - Watch online anytime anywhere: Stream, Buy, Rent
Get Rich or Die Tryin' is currently available to watch and stream, buy, rent on demand at Amazon, Vudu, Google Play, FandangoNow, iTunes, YouTube VOD online.