Watch Geostorm
---
"Some things were never meant to be controlled."
In this disaster flick, the Earth is imperiled by malfunctioning climate-controlling satellites that wreak havok on the planet's weather. Thanks to an improbable story and subpar visual effects, the film received negative reviews and performed very poorly at the box office. Gerard Butler, Ed Harris and Andy Garcia star, and bombastic producer Jerry Bruckheimer produces.
|
2017
|
1 hr 59 min
|

/

10
Cast

Director

Dean Devlin, Danny Cannon

Language

English
SUBSCRIPTION
RENT / BUY
CABLE
Geostorm News
'Madea' Is the Week's Top Movie, 'Geostorm' Washes Out
October 22, 2017 @ 9:59 am PST
|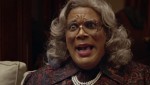 Even Tyler Perry's comedy sequel had a rough weekend, but it did better than the other new movies in theaters this week.
Read More

Madea Will Likely Scare Up a Win at the Box Office This Weekend
October 19, 2017 @ 7:20 am PST
|
Read More

Watch Geostorm Trailer

GEOSTORM - OFFICIAL TRAILER 2 [HD]
|
2:30

Watch Geostorm Online - Watch online anytime anywhere: Stream, Download, Buy, Rent
Geostorm is currently available to watch and stream, download, buy, rent on demand at Amazon Prime, DIRECTV NOW, Amazon, Vudu, Google Play, FandangoNow, iTunes, YouTube VOD online.